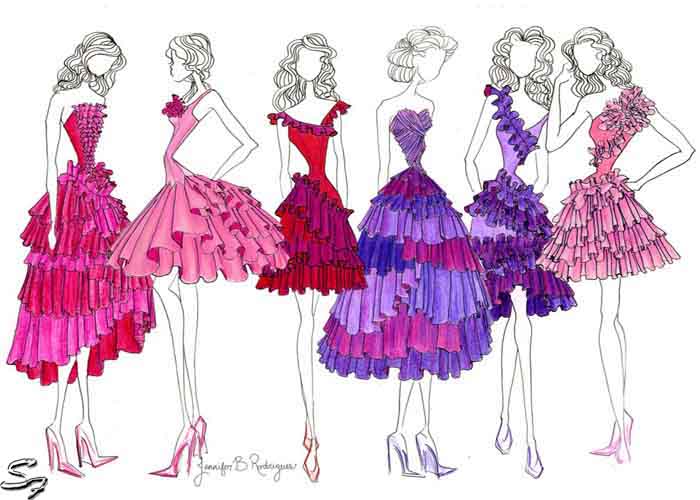 via:fashion-design-course.com/blog
Lisa's Tango Dress Toiles
Valentino Spring Couture 2013
Fashion design is generally considered to have started in the 19th century with Charles Frederick Worth who was the first designer to have his label sewn into the garments that he created. Before the former draper set up his maison couture (fashion house) in Paris, clothing design and creation was handled by largely anonymous seamstresses, and high fashion descended from that worn at royal courts. Worth's success was such that he was able to dictate to his customers what they should wear, instead of following their lead as earlier dressmakers had done. The term couturier was in fact first created in order to describe him. While all articles of clothing from any time period are studied by academics as costume design, only clothing created after 1858 could be considered as fashion design.
It was during this period that many design houses began to hire artists to sketch or paint designs for garments. The images were shown to clients, which was much cheaper than producing an actual sample garment in the workroom. If the client liked their design, they ordered it and the resulting garment made money for the house. Thus, the tradition of designers sketching out garment designs instead of presenting completed garments on models to customers began as an economy.
via:101fashiontoday.wordpress.com
Bustier toiling.
via:rcatextiles
via:rcatextiles.com
via:closeyoureyesandthinkof
Design draft for a chatterbox skirt
Dress designed by Charles Frederick Worth for Elisabeth of Austria painted by Franz Xaver Winterhalter.
'Nautical Glamour' by Hayden Williams